So uh... June Happened
So I did really well in May. I even managed to blog 5 times in a single month! I act like this is some amazing feet and not something I used to do all the time.
And then uh.... June happened. I don't really have any reason for not blogging in June other than I had nothing to say, much like right now where I am just inanely rambling. But here is the wrap up on my life in June:
~ I fucking live in Florida and its like living on the sun
. I mean I have always lived in the South and I have always known what humidity is like (
and my hair hates me for it
), but June in Florida is just different. It's like 100 degrees everyday until about 3 o'clock and then it rains for anywhere between 15 minutes and an hour and a half. I mean it happens so on schedule I could set my watch to it
if I lived in 1952 and owned a watch
. The funny thing is this happens everyday and I never take an umbrella to work. I know its going to rain and I also know it will be over by the time I leave work.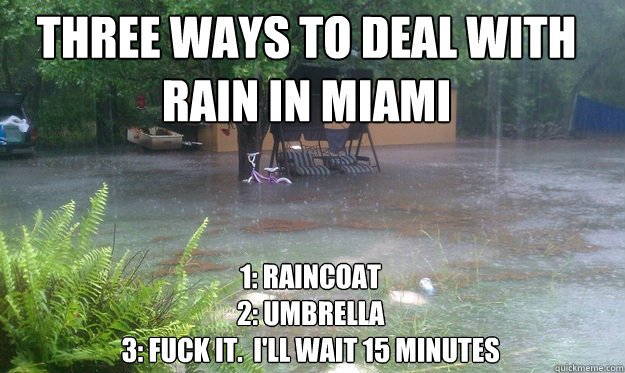 I don't live in Miami but its pretty accurate
~ I got to see G-Fab!
Some of you long time readers of this blog might remember hearing about my best friend in the whole wide world,
Geoff the Fabulous
. Geoff up and left me to move to sunny San Fran and get married to a college professor. Well as luck would have it his family was vacationing at Disney World and he was there. I only got to spend about 3 hours with him at dinner after driving 2 hours to see him, but it was 3 hours after not seeing him for SIX YEARS. The best part is that he and iMac got along swimmingly, so I don't have to worry about G-Fab not approving
(which would be kinda late since I already agreed to marry iMac).
~ My wedding dress came in from the store I ordered it from
. It might seem silly to order a special dress for my wedding since we are just eloping, but dammit this is the only wedding I am ever supposed to have and I'd just like to look nice in the pictures. But of course as my luck would have it, I try on the dress and break the zipper.
I wanted to just cry into the dress, because of course this just made me feel like I weight 300 pounds and am going to look like a baby whale on my wedding day. I took the dress back to the store and they are fixing the zipper for me for free (
apparently it happens frequently with the type of dress I ordered due to the way the material gathers
). That being said I am on a restrictive diet with a minimum of 30 minutes of cardio everyday until iMac and I elope, which could be whenever. So expect many tweets of how I hate exercise and how I miss chocolate
So how did everyone else's June go for them?