(Not Going) Home for the Holidays
So ever since my family moved to Florida, its been kind of weird for me. I'm not used to them being so far away. It's not like I have always lived close to them, but I've always been within a 3-4 hour drive from them. So its not like I couldn't go home for the weekend if I wanted to and I always always spent holidays at home.
So this is the first Thanksgiving that I'm away from my family. (
Technically its my second, I spent on Thanksgiving with my Step-mom's family in New Jersey, but that was like 6 years ago and it doesn't really count.
) And Imac was nice enough to invite me to his grandparents for Thanksgiving, otherwise I'm pretty sure I would have been crying into ice cream about being alone on Thanksgiving.
His family was very nice but it was a very nontraditional Thanksgiving for me. We had chicken, sweet potatoes, stuffing and then okra, sauteed squash and key lime pie. Now I might have been living in the south for like forever, doesn't mean I have grown accustomed to the food. Okra is like a foreign substance to me.
Imac made a good bit of fun of me for saying that. Later that night we got on his Ipad and face-timed my family in Florida who was still at their Thanksgiving with my grandparents, aunt, uncle and cousins. As we were getting passed around and seeing all my family my mom asked me what we had and so we told her "Chicken and Okra" which caused my mother and aunt to start making gagging and vomiting noises. Of course then when my mom found out his grandfather cooked she felt like an ass for making fun of it. She was all "Way for me to make a great first impression."
Of course not ten minutes later she decided that they should have just set a computer up at the table and I could have face-timed the whole thanksgiving dinner. My mom and Aunt were like "we could have pretended to feed you and you could have seen all the food." It was like gee thanks family.
No good conversation with my family goes without them making fun of me.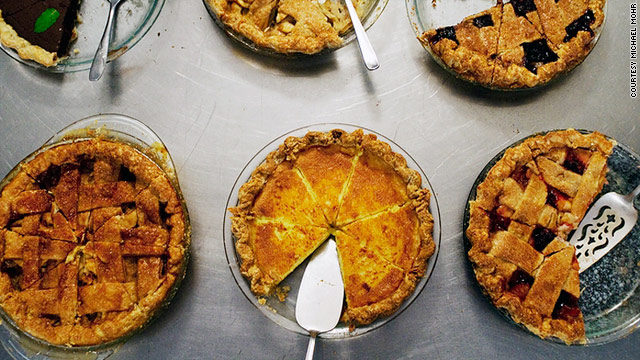 Also I missed out on pie. My family had a Pumpkin pie, Apple Pie, Peanut Butter Pie, Cheesecake and Lemon Meringue pie on top of cookies and brownies. I still haven't had a slice of pie and its making me a sad panda.
So how was your Thanksgiving? And what kind of pie is your favorite? Also face-timing thanksgiving = good idea or bad idea?