Under the Covers: The Spellman Files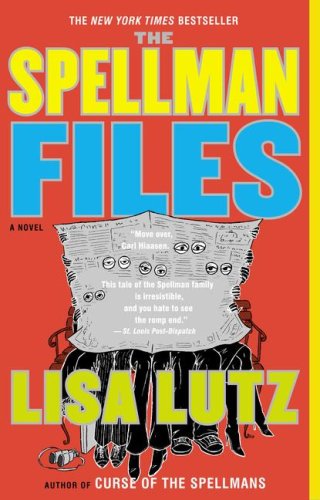 TITLE:
The Spellman Files
AUTHOR:
Lisa Lutz
GENRE
: Fiction/Mystery/Comedy
SUMMARY:
Meet Isabel "Izzy" Spellman, private investigator. This twenty-eight-year-old may have a checkered past littered with romantic mistakes, excessive drinking, and creative vandalism; she may be addicted to Get Smart reruns and prefer entering homes through windows rather than doors -- but the upshot is she's good at her job as a licensed private investigator with her family's firm, Spellman Investigations. Invading people's privacy comes naturally to Izzy. In fact, it comes naturally to all the Spellmans. If only they could leave their work at the office. To be a Spellman is to snoop on a Spellman; tail a Spellman; dig up dirt on, blackmail, and wiretap a Spellman.
Part Nancy Drew, part Dirty Harry, Izzy walks an indistinguishable line between Spellman family member and Spellman employee. Duties include: completing assignments from the bosses, aka Mom and Dad (
preferably without scrutiny
); appeasing her chronically perfect lawyer brother (
often under duress)
; setting an example for her fourteen-year-old sister, Rae (
who's become addicted to "recreational surveillance
"); and tracking down her uncle (
who randomly disappears on benders dubbed "Lost Weekends
"). But when Izzy's parents hire Rae to follow her (
for the purpose of ascertaining the identity of Izzy's new boyfriend
), Izzy snaps and decides that the only way she will ever be normal is if she gets out of the family business. But there's a hitch: she must take one last job before they'll let her go -- a fifteen-year-old, ice-cold missing person case. She accepts, only to experience a disappearance far closer to home, which becomes the most important case of her life.**
ROSE'S REVIEW
: If you ever imagined what it would be like to grow up with private investigators as parents, well this is the book for you. Izzy is an instantly-lovable train wreck middle child. It becomes easy to empathize with her and her screwed up ways when you meet her perfect older brother and completely nosy and insane parents. Then there is Uncle Ray and Rae whose on-going feud is hilarious. Isabel isn't perfect by any means but she is easily relateable and partially insane. It doesn't take the reader long to understand why she tries to keep her boyfriend hidden from her parents, or why she lies to try and have a "normal" life.
The Spellman files is totally addicting. I consumed the book in under a day and then quickly went to the bookstore to buy the next 3 books in the series, which i finished in under a week. These books are like crack, you can't leave them alone. You become enthralled with the family and all their various mysteries, espionages, blackmail (
and there is a lot of blackmail
) and secrets. Sometimes you can figure out the mystery before Izzy does, and sometimes you think you have all the answers only to find out you are totally off-base (
it happens to Izzy too
). But its the family that keeps you coming back for more. I mean i thought my family was crazy but they don't hold a candle to the Spellmans. I mean normal people don't hold lucky shirts for ransom, or sneak into their houses by using the fire escape. The book isn't perfect but its pretty darn close. It doesn't surprise me that it was a New York Times Bestseller (
all the subsequent books were as well
). Here's crossing my fingers that book #5 comes out soon.
GRADE
: A
** From Amazon