Under the Covers: Secret History of the Pink Carnation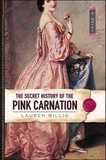 Welcome to Under the Covers, where i will be reviewing books i have read. Some will be chicklit, some will be History texts, some will just be crap I stumbled upon. But it's my blog and i'll do as i please. Hopefully I will inspire some of you to pick up these books (as apparently you're literate since you're reading this).
So first up, trashy romance disguised as historical fiction disguised as research.
TITLE:

The Secret History of the Pink Carnation
AUTHOR:

Lauren Willig
GENRE:

Adventure/Chick Lit/Spy Novel/Historical Romance/Comedy
SUMMARY:

Nothing goes right for Eloise. The one day she wears her new suede boots, it rains cats and dogs. When the subway stops short, she's always the one thrown into some stranger's lap. Plus, she's had more than her share of misfortune in the way of love. In fact, after she realizes romantic heroes are a thing of the past, she decides it's time for a fresh start.
Setting off for England, Eloise is determined to finish her dissertation on the dashing pair of spies, the Scarlet Pimpernel and the Purple Gentian. But what she discovers is something the finest historians have missed: the secret history of the Pink Carnation -- the most elusive spy of all time. As she works to unmask this obscure spy, Eloise stumbles across answers to all kinds of questions. How did the Pink Carnation save England from Napoleon? What became of the Scarlet Pimpernel and the Purple Gentian? And will Eloise Kelly escape her bad luck and find a living, breathing hero all her own?
ROSE'S REVIEW:

So the summary is slightly misleading. It implies that the main focus of the book is Eloise and its set in modern day England, it's not. The Bulk of the work is actually set in 1800's France and England. The main characters are actually Amy and Richard (otherwise known as the Purple Gentian). There are a few chapters spliced in that are Eloise and her quest for dissertation material. Eloise serves as the narrator, walking readers through the story, and making a few wrong turns along the way. I made several of the same wrong leaps as Eloise did when i read the book.
So Amy is a young women who gets trapped in a rural village in England with her mother, while the French revolution is going on. Her father and brother stay in France. After her father ( a minor noble) is executed during the reign of terror Amy dreams of going back to France to join up with the League of the Scarlet Pimpernel and then the Purple Gentian. She finally gets her chance one Napoleon is in power and her brother sends for her. Amy, her cousin Jane and their supervisor Miss Gwen set off for France and chaos ensues. Amy desperately tries to figure out who the Purple Gentian is and manages to get mixed up along the way. So what does this have to do with the Pink Carnation? Everything but you have to read the book to figure it out.
I love this book. Lauren Willig writes interesting complex characters in a vivid and accurate presentation of 1800's France. She should she has her PHD in history from Harvard. Eloise strikes a cord with me because i understand the plight of finding primary resources and writing historical work. Amy is charming and funny and makes all the mistakes a girl would make all while falling in love with the man she set out to find all along. When the group finally makes a stand against Napoleon it is witty and thoroughly original. The subsequent sequels are just as good and you get drawn into the League of the Pink Carnation and Eloise's struggles. This is one of the few book series i can't wait for the next book to come out in.
GRADE:

A